Abdelsalam Mohamed Ramadan frá Líbýu, hefur ítrekað verið kærður fyrir þjófnað, svik og lygar sem tengjast meintum glæpsamlegum afbrotum hans í viðskiptum við fjölmarga einstaklinga og fyrirtæki.
English below – مترجم إلى اللغة العربية أدناه – Übersetzt ins Deutsche unten
,,Abdelsalam Mohamed Ramadan er þjófur og lygari frá Tripoli"
Fréttatíminn hefur undir höndum kærur lögmanns til lögreglu, þar sem fjölmargir aðilar bera Abdel Salam Mohamed þungum sökum fyrir meinta glæpi og þjófnað.
Þá segja aðilar sem voru fórnarlömb meintra glæpa í samtali við blaðamann: ,,Abdelsalam Mohamed Ramadan er bara þjófur og lygari frá Trioli. Hann kom hingað til lands á fölskum forsendum."
,,Hann var með vegabréf frá Swiss en ég tel eftir ítarlega rannsókn, að hann hafi engin sambönd þar, og síðar kom í ljós að hann er borinn og barnfæddur í Arabalöndum og býr í Tripoli.
Ég veit ekki um öll hans afbrot en ég veit um a.m.k. tíu fyrirtæki og einstaklinga sem hann hefur stolið miklum verðmætum frá og við erum að tala um marga tugi milljóna. Ég reikna með að fórnarlömb hans séu mun fleiri, en þetta eru þau sem ég veit um. Lögreglan rannsakar málin."
Abdelsalam Mohamed Ramadan kærður margsinnis til lögreglu
Í kærunni segir að Mohamed hafi komið til Íslands nokkrum sinnum á árunum 2021 og 2022 til að stunda viðskipti tengd sjávarútvegi.
Í þeim tilgangi setti hann sig meðal annars í samband við fjölmarga aðila undir því yfirskyni að hann vildi annað hvort eiga við þá viðskipti eða fá þá til að aðstoða sig vegna málefna er tengdust viðskiptum hans hér á landi.
Skipið Tajons – IMO 6413340, MMSI 642122133
Hafði Abdelsalam m.a. keypt skip að nafni Fjóla KE hér á landi á árinu 2021, skipið heitir í dag Tajons og hann hugðist láta sigla því fyrir sig til Líbíu sem og stofnaði hann til ýmissa annarra viðskiptasambanda hér á landi.
Er því haldið fram af öllum kærendum að Abdesalam hafi með ólögmætum hætti svikið út úr þeim fjárverðmæti með því að telja þeim trú um að hann myndi greiða þeim umsamið endurgjald fyrir þau verðmæti sem hann fékk frá þeim, þá annað hvort vinnuframlag eða fjárverðmæti.
Slíkt hafi hann þó hins vegar aldrei ætlað að gera en hann hafi misnotað sér þá aðstöðu sem hann hafði komið sér í gagnvart þeim til að yfirgefa landið og þannig reynt að komast undan greiðsluskyldu sinni.
Þá er því einnig haldið fram af öllum kærendum að Abdelsalam hafi ráðstafað, geymt og/eða nýtt ávinning af framangreindum brotum í sína eigin þágu eða þá eftir atvikum í þágu atvinnurekstrar í hans eigu." Segir í kærum til lögreglu á hendur Abdelsalam Mohamed Ramadan, þá hefur fréttatíminn heimildir fyrir því að fleiri aðilar séu á leið með kærur á hendur honum vegna meints þjófnaðar og glæpsamlegra athæfa.
Vegna þess að meint glæpastarfsemi teygir sig til fleiri landa, þá komu vitni í viðtal við Fréttatímann með því skilyrði að fréttin hefði enska fyrirsög og að hún yrði einnig þýdd á fleiri tungumál ,,til þess að væntanleg fórnarlömb í framtíðinni geti varað sig á honum." Segja viðmælendur.
Tajons left full of stolen goods from Iceland to Tripoli – The ship Tajons IMO 6413340 MMSI 642122133
Þýtt á ensku, þýsku og arabísku – English below – مترجم إلى اللغة العربية أدناه – Übersetzt ins Deutsche unten
Abdelsalam Mohamed Ramadan from Tripoli – Repeated fraud and theft against a number of companies and individuals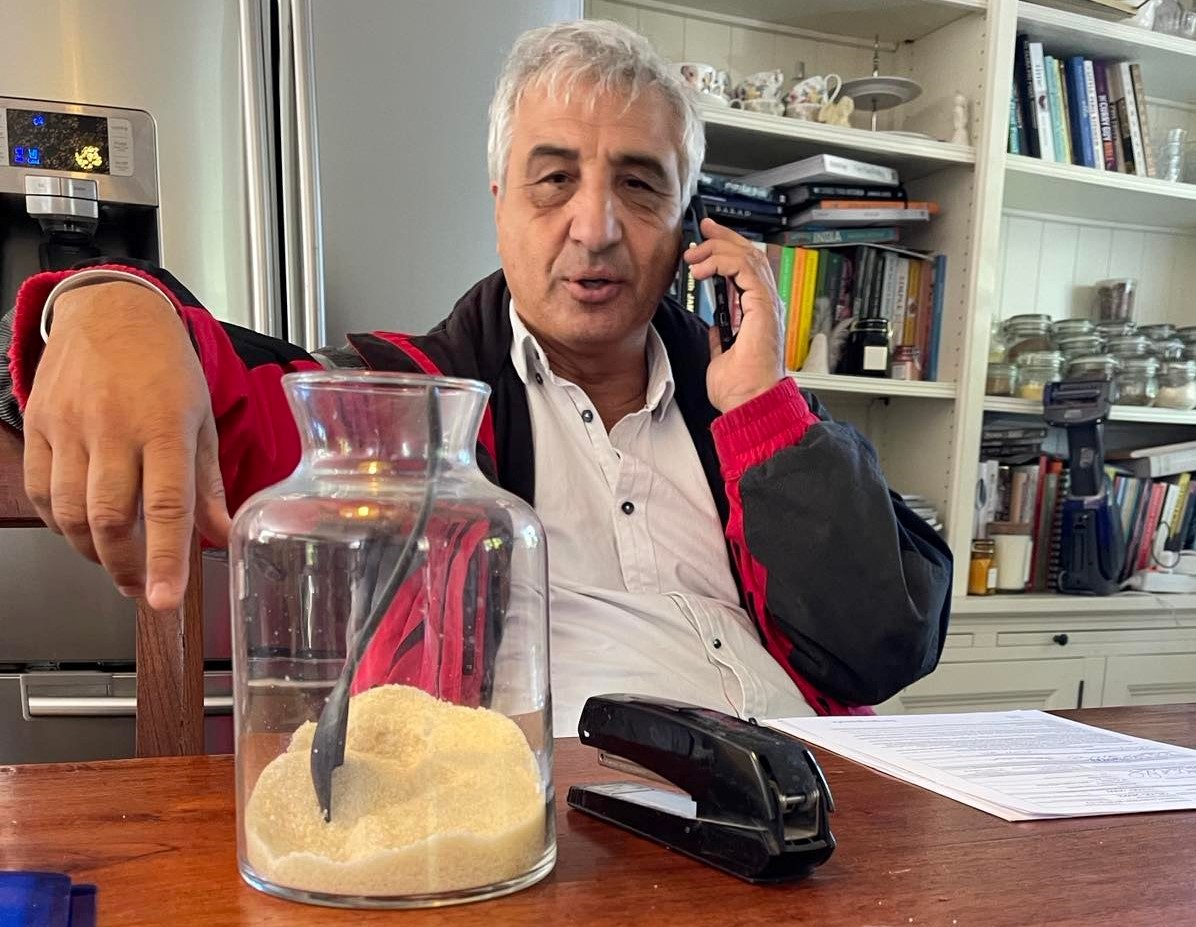 Victims of his crimes are numerous and we have many police reports and complaints for theft, fraud and crimes – Multi-million theft and fraud
Abdelsalam Mohamed Ramadan of Libya, has been repeatedly indicted for theft, fraud and lying related to his alleged criminal offenses in dealings with numerous individuals and companies.
Translated into English, German and Arabic below – English below – مترجمة إلى اللغة العربية عرض المزيد – Übersetzt ins Deutsche unten
"Abdelsalam Mohamed Ramadan is a thief and liar from Tripoli"
The news agency Fréttatíminn, has filed a lawyer's complaint with the police, where many parties accuse Abdel Salam Mohamed of alleged crimes and theft. Then the parties who were victims of alleged crimes say in a conversation with a journalist: "Abdelsalam Mohamed Ramadan is just a thief and a liar from Trioli. He came to this country under false pretenses.
He had a Swiss passport, but I believe after a thorough investigation, that he has no connections there, and later it turned out that he was born and raised in Arab countries and lives in Tripoli.
I don't know about all his crimes, but I know about at least ten companies and individuals from whom he has stolen a lot of value and we are talking about many tens of millions. I reckon his victims are many more, but these are the ones I know of. The police are investigating all the crimes."
Abdelsalam Mohamed Ramadan has been reported to the police several times
The complaint states that Mohamed came to Iceland several times in the years 2021 and 2022 to do business related to the fishing industry and for that purpose, among other things, he put himself in contact with numerous parties under the pretext that he either wanted to do business with them or get then to help him with issues related to his business in this country.
The vessel Tajons – IMO 6413340, MMSI 642122133
Had Abdelsalam i.a. bought a ship named Fjóla KE in this country in the year 2021, the ship is today called Tajons and he planned to have it sailed for him to Libya and he established various other business relationships in this country.
It is claimed by all the applicants that Abdesalam illegally cheated them out of that financial value by making them believe that he would pay them the agreed remuneration for the value he received from them, then either labor contribution or financial value.
However, he never intended to do such a thing, but he abused the position he had put himself in towards them to leave the country and thus tried to escape his payment obligation.
It is also claimed by all the complainants that Abdelsalam disposed of, kept and/or used the benefits of the aforementioned offenses for his own benefit or, as the case may be, for the benefit of his business." According to complaints to the police against Abdelsalam Mohamed Ramadan, the news agency has sources that more parties are on the way to file complaints against him due to alleged theft and criminal activities.
Because the alleged criminal activity extends to several countries, witnesses came to an interview with Fréttatímann on the condition that the news had an English headline and that it would also be translated into several languages, "so that future victims can be warned about it." " Interviewees say
Tajons left full of stolen goods from Iceland to Tripoli – The ship Tajons IMO 6413340 MMSI 642122133
عبد السلام محمد رمضان من ليبيا – تكرار الاحتيال والسرقة ضد عدد من الشركات والأفراد
ضحايا جرائمه كثيرون ولدينا العديد من بلاغات الشرطة وشكاوى السرقة والاحتيال والجرائم – سرقة واحتيال بملايين
عبد السلام محمد رمضان من ليبيا ، وجهت إليه عدة تهم بالسرقة والاحتيال والكذب فيما يتعلق بجرائمه الجنائية المزعومة في التعامل مع العديد من الأفراد والشركات.
مترجم أدناه إلى الإنجليزية والألمانية والعربية
"عبد السلام محمد رمضان سارق وكذاب من تريولي".
وكانت وكالة أنباء فريتاتيمين قد تقدمت بشكوى لمحامي لدى الشرطة ، حيث يتهم العديد من الأطراف عبد السلام محمد بارتكاب جرائم وسرقة مزعومة. ثم قالت الأطراف التي كانت ضحية لجرائم مزعومة في محادثة مع أحد الصحفيين:
"عبد السلام محمد رمضان مجرد لص وكاذب من تريولي ، جاء إلى هذا البلد بحجج كاذبة.
كان لديه جواز سفر سويسري ، لكنني أعتقد بعد تحقيق شامل ، أنه ليس لديه أي صلات هناك ، واتضح لاحقًا أنه ولد وترعرع في الدول العربية ويعيش في طرابلس.
لا أعرف عن كل جرائمه ، لكنني أعرف ما لا يقل عن عشر شركات وأفراد سرق منهم الكثير من القيمة ونحن نتحدث عن عشرات الملايين.
أعتقد أن ضحاياه أكثر بكثير ، لكن هؤلاء هم الذين أعرفهم. وتحقق الشرطة في كل الجرائم "
---
Tajons left full of stolen goods from Iceland to Tripoli – The ship Tajons IMO 6413340 MMSI 642122133
Abdelsalam Mohamed Ramadan aus Tripoli – Wiederholter Betrug und Diebstahl gegen eine Reihe von Unternehmen und Einzelpersonen
Opfer seiner Verbrechen sind zahlreich und wir haben viele Polizeiberichte und Anzeigen wegen Diebstahls, Betrugs und Verbrechens – Diebstahl und Betrug in Millionenhöhe
Abdelsalam Mohamed Ramadan aus Libyen wurde wiederholt wegen Diebstahls, Betrugs und Lügens im Zusammenhang mit seinen mutmaßlichen Straftaten im Umgang mit zahlreichen Einzelpersonen und Unternehmen angeklagt.
Unten ins Englische, Deutsche und Arabische übersetzt
"Abdelsalam Mohamed Ramadan ist ein Dieb und Lügner aus Tripoli"
Die Nachrichtenagentur Fréttatíminn hat eine Anwaltsklage bei der Polizei eingereicht, in der viele Parteien Abdel Salam Mohamed wegen angeblicher Verbrechen und Diebstahls beschuldigen. Dann sagen die Beteiligten, die Opfer mutmaßlicher Verbrechen wurden, im Gespräch mit einem Journalisten:
"Abdelsalam Mohamed Ramadan ist nur ein Dieb und ein Lügner aus Trioli. Er kam unter falschem Vorwand in dieses Land. Er hatte einen Schweizer Pass, aber ich glaube nach eingehender Untersuchung, dass er dort keine Verbindungen hat, und später stellte sich heraus, dass er in arabischen Ländern geboren und aufgewachsen ist und in Tripolis lebt.
Ich kenne nicht alle seine Verbrechen, aber ich kenne mindestens zehn Unternehmen und Einzelpersonen, denen er viel Wert gestohlen hat, und wir sprechen von vielen zehn Millionen.
Ich schätze, seine Opfer sind viel mehr, aber das sind die, von denen ich weiß. Die Polizei untersucht alle Verbrechen."
https://gamli.frettatiminn.is/29/09/2022/abdelsalam-mohamed-ramadan-from-libya-repeated-fraud-and-theft-against-a-number-of-companies-and-individuals/?preview_id=47592&preview_nonce=86186b59f0&post_format=standard&_thumbnail_id=47593&preview=true
Tajons left full of stolen goods from Iceland to Tripoli – The ship Tajons IMO 6413340 MMSI 642122133